Tag: RC
by Daniel on Jul.25, 2009, under GasMate
This is a bugfix version with a few features added:
Decimal separator is now pulled from localization info
Dollar sign($) is also pulled from localization info
Last gas type used is remembered
Added an extra digit to gals and price
CAB file is now compressed to make it smaller, I will work on the EXE's next
Grab it here: http://www.lulzsoft.com/installers/gasmate_rc.41b.CAB
8 Comments
:bug, fix, Gas, gas mileage, GasMate, lulzsoft, MPG, RC, update, windows mobile
more...
by Daniel on Jul.15, 2009, under GasMate
Its been a little while since I have done a significant update.  I managed to fix the maintenance bug (I hope) for real this time.  You will also notice that you *should* be able to use just your fingers to enter in new readings(tap the numbers).  I have the ODO reading automatically brought into the numbers but not the others, since they will go up and down with time.  I could change this later on.  Check the screenshots below……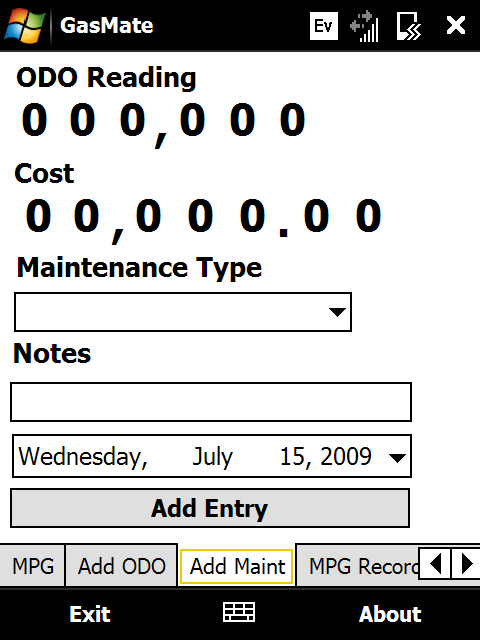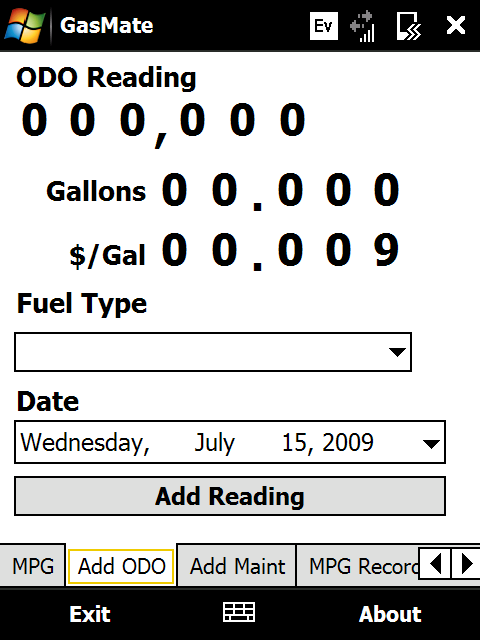 You will need to have followed the upgrade instructions for .26 already to make the DB change.  As always, .Net 3.5 and SQLCE are required.
11 Comments
:Gas, gas mileage, GasMate, RC
more...